Acrylic Nails in Southampton
Get your nails looking bold and pretty again with our professional acrylic nail extensions in Southampton.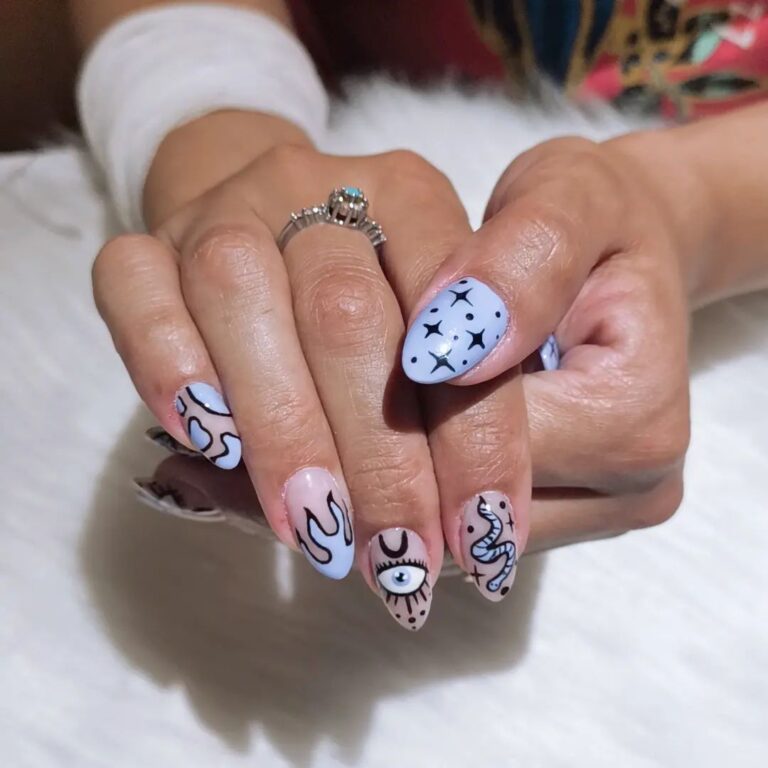 What is Acrylic Nails Extension?
Acrylics are a form of a paste made by combining a polymer and monomer. They can be shaped to any design you demand, thus giving you the look you want. It is used to strengthen your nails and provide them with a trendy tip-toe length and shape.
Benefits of Acrylic Nail Extensions
Acrylic nail extensions offer a range of benefits for those looking to enhance the appearance and health of their nails.
Strengthens weak and brittle nails

: Acrylic nails provide a protective layer that reinforces and strengthens natural nails, making them less prone to breakage and splitting.

Adds length and shape

: Acrylic extensions can instantly add length and create a desired shape, allowing individuals with shorter nails to achieve a more glamorous and polished look.

Long-lasting durability

: Acrylic nails are known for their durability and longevity. They are resistant to everyday wear and tear, making them ideal for those who lead an active lifestyle or have demanding occupations.

Versatile and adaptable

: Acrylic nails can be customised to suit individual preferences. They can be filed, reshaped, or shortened as desired, providing flexibility for different occasions or changing trends.
Get your acrylic nail extensions today and enjoy a beautiful instant transformation. We have a full set of nail treatments at our beauty salon. They are very low maintenance, trendy, and aesthetically appealing. Contact Beauty Arts today and benefit from our mobile service in Southampton. 
The Best Services Of Beauty Store
Our other Beauty Services in Southampton
Ian Clewer
21 August 2023
Had a neck and shoulder massage, it was lovely. The premises are very clean and presentable, both ladies are very polite and professional. Will definitely return.
Olivia-Quinn Andrew
19 August 2023
Full body massage, threading and a cuppa - perfect and quiet 👌✨⭐️ very polite and easy to get to. Very happy ♥️💖
Sukhjeet Kaur
18 August 2023
Amarjit Kaur
18 August 2023
I went first time at this beauty salon 😍 she did really good job.I love to come soon seema xx
Dorothy woods
16 August 2023
First time here for eyebrows absolutely brilliant very good service and price definitely be back x
I had the most amazing full body massage, lovely place and beautiful therapist. Thank you very much! Will definitely come back soon. Highly recommended 🌟🌟🌟
Julie Christie
15 August 2023
First time here it's was so pleasant and nothing to much trouble it's was brilliant 👏. We highly recommend 👌
Sukhjinder Kaur
11 August 2023
I came beauty arts first time and i met with seema she is very nice and also her work is good. I highly recommend to everyone To come here.
keran edwards
9 August 2023
I had the pleasure of having eyelash extensions done here and I am very happy to recommend Seema. Don't be put off by the area, once you have been here, you will never go anywhere else. A dedicated area of calm. I give her 5stars. I will be going back. 💕
Brian and Joy Larder
8 August 2023
This was my first visit for a pedicure, and I will definitely be returning. Seema is very friendly and professional. The salon is very clean and has a lovely, relaxing ambience. My pedicure was great and excellent value for money. I would definitely recommend her services.
There are no exclusive side effects for nail extensions compared to any other nail procedure. However, if not done under the supervision of an expert nail salon specialist, it might weaken the state of your nails during the removal process. Additionally, it is recommended to give your nails a breather between appointments for better nail health.
Acrylics usually last somewhere between 5 to 8 weeks, depending on the level of care they receive. Additionally, maintenance is very important, as you should refill them every 2 weeks to accommodate nail growth.